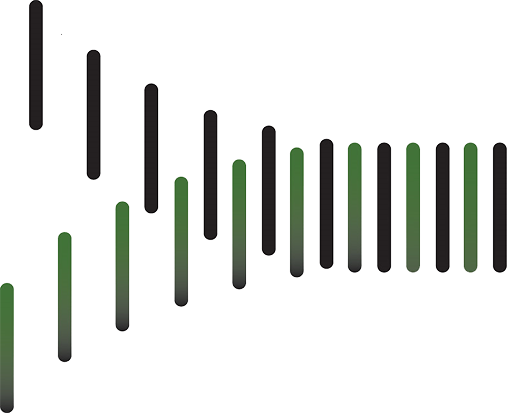 Clearing the Smoke: Is it Practical For a New State to Legalize Cannabis?

The complexities of the U.S. cannabis industry have been exacerbated by the consequences of states operating within the confines of closed economies defined by their own interpretations of legitimacy under the shadow of existing federal laws. These variations of standards from one state to another carry inherent uncertainties for businesses and investors with respect to how the industry will operate subsequent to the inevitable delisting or reclassification of cannabis.
The general health concerns, heightened levels of anxiety, and financial assault brought upon by the COVID pandemic has arguably enhanced the cannabis legalization debate regardless of any Trump or Biden preference.  To minimize budget shortfalls, it stands to reason that many States that have not heretofore generated tax revenues from cannabis sales will now seek to initiate a discussion addressing legalization. 
Although this thinking may seem logical, we offer the following considerations as to whether any such efforts are practical at this time.
1. The imminent changes to federal cannabis laws will likely impact current regulatory and taxing structures within each state, thus initial tax revenue projections may be unachievable. We share the consensus view that a change to federal law could occur shortly after this year's general election regardless of who wins. The inevitable friction between federal and state desires for tax revenues within the tolerance of end user pricing acceptance (to some degree an illicit market alternative and in other cases, the demographic without access to the illicit market) will need to be reconciled.  While a new taxing structure will take time to phase in, state tax revenue projections are more likely to fall short of original expectations.
2. It could take longer than 2 years for a state to implement a new cannabis market. As we have observed in legal recreational markets, which have benefited from an existing medical marijuana infrastructure, the timeline from date of legalization to implementation on average is about 18 months (see below).  This timeline is even longer when considering the commencement date of initial discussions/debates among state politicians. Also, in the current pandemic environment, safety protocols at licensed cannabis facilities will need to be considered which could further extend the timeline for state tax revenues.   On the other hand, we expect an accelerated timeline in those medical states that have begun taking measures to accommodate a recreational use market. New Jersey is one such example that has recently expanded its medical program which, by a "flick of the switch" positions the state to realize added tax revenues sooner from recreational use sales (we expect the ballot measure to pass in November).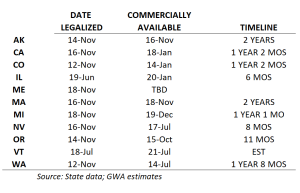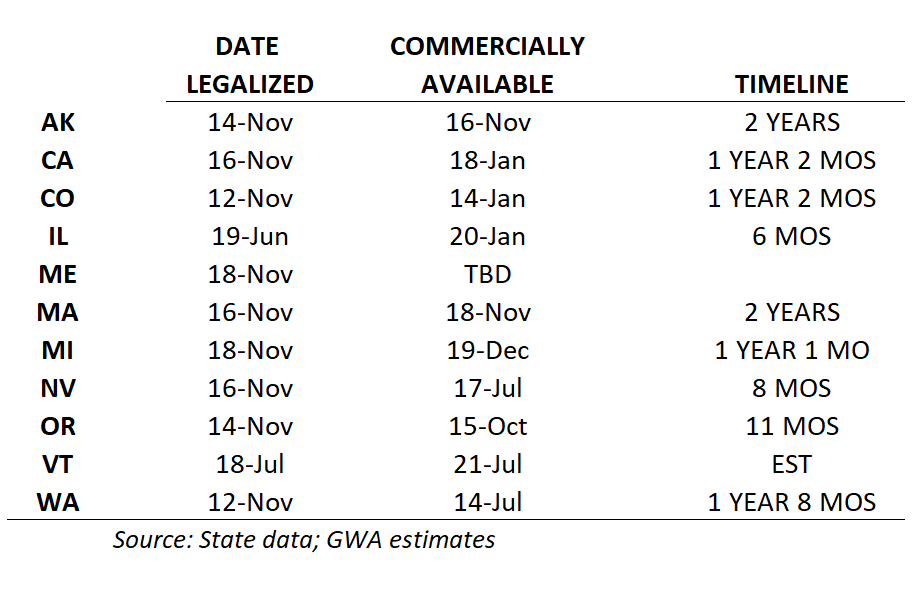 3. A federal excise tax could garner approximately  $7B – $10B, net of lost 280E revenues. As we have noted in the past, the cost of prohibition is expensive and will continue to limit the ability for many businesses to continue as a going concern thus reducing Federal tax revenues generated from 280E.  Consequently, many businesses have failed and more will likely follow suit, particularly as the economy worsens and capital becomes more scarce.  A federal excise tax would more than offset these lost 280E revenues as noted in our analysis below.
Similar to tobacco and alcohol sales, we think it is reasonable to assume a federal excise tax on cannabis will be passed on to the consumer, which conservatively could be assessed in the range of 15% – 20%.  In order to compete with the illicit market, state taxes on cannabis sales would need to be lowered thus making original expectations unachievable.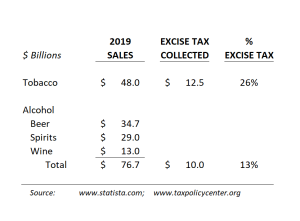 In this VERY simplified example, we assume a $75 B maturity value of retail cannabis sales, a 50% gross margin for 280E purposes (normal operating expenses are non deductible under 280E), 20% operating profit margin on a normalized basis (similar to other CPG companies with no 280E) and illustrate the impact with a 15% and 20% excise tax: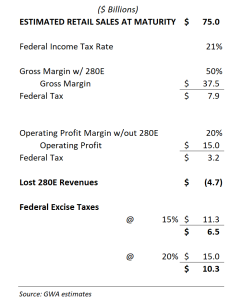 4. In our view, a move to legalize medical marijuana without consideration for recreational use will provide limited tax revenues and ongoing operating losses. In the early stages of the industry's growth, the appeal of "first mover" in a limited license medical marijuana state, has largely been predicated upon the perceived "first right" for license conversion that would at some future point, permit serving a more lucrative, recreational use marketplace.  
While patient cardholder counts and revenues are accelerating in some markets, Medical Marijuana (as it exists today) has generally fallen short of expectations (relative to the market potential) which can be attributed in part to lackluster physician/practitioner participation in state medical marijuana programs that is on average 5% with some variations depending on the state. 
We do believe that the medicinal use market will recalibrate when the pipeline of new, more targeted medication become available and as the medical profession gains more comfort in "pushing" a marijuana treatment rather than a patient having to "pull" a recommendation from a doctor. These may include products available only by prescription as well as over the counter nutraceuticals. Defining a precise timeframe for these developments is difficult, as legislation will lead to guidance which in turn will foster increased entrepreneurial and scientific efforts. With this maturity, we expect the medicinal use market to surge, particularly as foreign based companies leading the way in the research, development, and marketing of ailment specific treatments enter the U.S. market.
While we do not intend to understate the importance or necessity of medical marijuana as an alternative treatment for many debilitating health conditions, there presently appears to be little distinction between the various designated medicinal use products and those offered in a recreational market.  Since "chronic pain" (loosely defined), is the most common ailment among medical marijuana users, it is likely that recreational users can already purchase marijuana without great difficulty in states where medicinal use is legal. Accordingly, it can be argued that to some degree, a recreational use market already exists in medical marijuana states.
5. Depending on the state, even with a compressed timeline, it will likely become increasingly more difficult (but not impossible) to attract capital into a newly established market.  While retail sales have remained strong year to date, ongoing economic uncertainty coupled with prolonged operating losses in many legalized states may keep new investment dollars on the sidelines.  Furthermore, because of the federal illegality, Multinational companies have been precluded from investing in American cannabis companies leaving the U.S. at a competitive disadvantage. An end to federal prohibition will enable strategic investments from multinational companies (Big Alcohol, Big Tobacco, Big Pharma) which also brings a heightened level of professionalism and expertise.   Thus far, U.S. companies that seek exposure in Cannabis have done so by investing in Canadian companies (Constellation Brands/Canopy Growth etc.).
Copyright © 2020 GreenWave Advisors, LLC All Rights Reserved
____________________________________________________________________________________

Disclaimers
The Controlled Substances Act regulates, among other things, the cultivation, possession and distribution of certain controlled substances, including Cannabis and Marijuana which are illegal under federal law and in many states. This is true whether or not it is possessed for qualifying medical conditions, as provided for in certain state medical marijuana laws or if it is possessed within the few states that permit non-medicinal Adult (Recreational) Use.
There is nothing in this briefing written to offer any legal advice or to suggest any actions or choices the reader may make regarding participation in this industry or in any of the businesses discussed. 
Independence of Research. GreenWave Advisors LLC is an independent research provider. The Company is not a member of the FINRA or the SIPC and is not a registered broker dealer or investment adviser. The Company has no other regulated or unregulated business activities which conflict with its provision of independent research. No employee or member of GreenWave Advisors LLC, or immediate family member thereof, exercises investment discretion over, or holds any position in, securities of any issuer analyzed by the Company.
Nothing contained in this report or any distribution by GreenWave Advisors LLC should be construed as any offer to sell, or any solicitation of an offer to buy, any security or investment. Any research or other material received should not be construed as individualized investment advice. Investment decisions should be made as part of an overall portfolio strategy and you should consult with a professional financial advisor, legal and tax advisor prior to making any investment decision. GreenWave Advisors LLC shall not be liable for any direct or indirect, incidental or consequential loss or damage (including loss of profits, revenue or goodwill) arising from any investment decisions based on information or research obtained from the Company.
Any opinions or estimates given may change. GreenWave Advisors, LLC undertakes no obligation to provide recipients with any additional information or any update to or any corrections of the information contained herein. GreenWave Advisors, LLC, its owners, officers, employees, affiliates and partners shall not be liable to any person in any way whatsoever for any losses, costs or claims howsoever arising from any information contained herein or any inaccuracies or omissions in the information contained herein or any reliance on that information.
Reproduction and Distribution Strictly Prohibited. The research reports are produced for the exclusive use clients of GreenWave Advisors LLC. No user of the research reports may reproduce, modify, copy, distribute, sell, resell, transmit, transfer, license, assign or publish the research report itself or any information contained therein.
Copyrights, Trademarks, Intellectual Property. GreenWave Advisors LLC, and the logos and marks included on the GreenWave Advisors LLC website that identifies GreenWave Advisors LLC services and products are proprietary materials. The use of such terms and logos and marks without the express written consent of GreenWave Advisors LLC is strictly prohibited.